How Ad Blocking in iOS 9 Could Help Mobile App Publishers
Apple recently announced that its upcoming iOS 9 mobile operating system will allow consumers to use ad blocking technology, creating an understandable amount of concern in the mobile space. Owen Williams wrote at The Next Web that "iOS 9 ad blocking will hurt publishers more than any other websites," and he's right.
But what will happen to app publishers?
It is important to first understand what iOS 9's ad blocking is — and what it isn't. There are actually two changes coming that will affect the advertising industry. Direct ad blocking is the most-discussed as it relates most closely to existing desktop web ad blocking. While Apple itself is not creating ad blocking software, it is allowing third-party developers to create ad blocking software that works with the built-in Safari browser. What this does not do is block any sort of advertising inside of other mobile apps.
The second major change is something called App Transport Security (ATS). ATS is a security feature built into iOS 9 that requires app developers to use the more secure HTTPS instead of traditional HTTP whenever the app's code needs to talk to web services. This includes, of course, every app that serves up advertising from a mobile ad network, as the app must talk to the ad network's web service before it has an ad to display to a user. This goes too for other players in the mobile advertising space, such as advertising attribution engines (Mobile App Tracking by Tune, AppsFlyer, etc.) and even us here at Liftoff.
Thankfully, most of the major players in the space are already using HTTPS. Liftoff has been using this more secure protocol since the beginning, as have most large ad networks. You can expect any that are to not to ship updates to their SDKs relatively quickly.
Ad blocking on mobile web could actually increase app publishers' revenue — a good thing for those who rely on in-app ads for monetization. With limitations on mobile web traffic, more buyers will spend their mobile budgets on in-app ads than ever before. This will lead to higher fill rates and increased bidding on advertising, which drive eCPMs up and put more money into the 50% or more of publishers that rely on advertising for revenue.
Unfortunately every coin has two sides. While some app developers will see increased revenues, the marketers that rely on mobile advertising to drive traffic to their apps will be faced with more competition for the same traffic, driving inventory costs up.
This only further emphasizes why we are so focused on the quality of the downloads instead of the quantity. Liftoff's technology allows us to figure out the best users for an application, and then turn around and find those pockets of users where the costs are lowest, allowing you to better weather the tumultuous world of changing install costs.
iOS 9's ad blocking will certainly impact mobile advertising, but the size of that impact remains to be seen. Similar ad blocking apps are already available on Android, but we have yet to attribute noticeable difference in ad costs to them, even with Android being the more widely distributed operating system.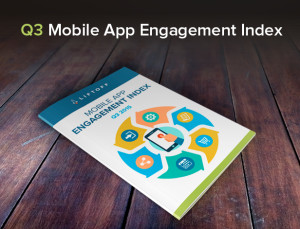 How does your app stack up?
Download the 2017 Mobile App Engagement Index to find out